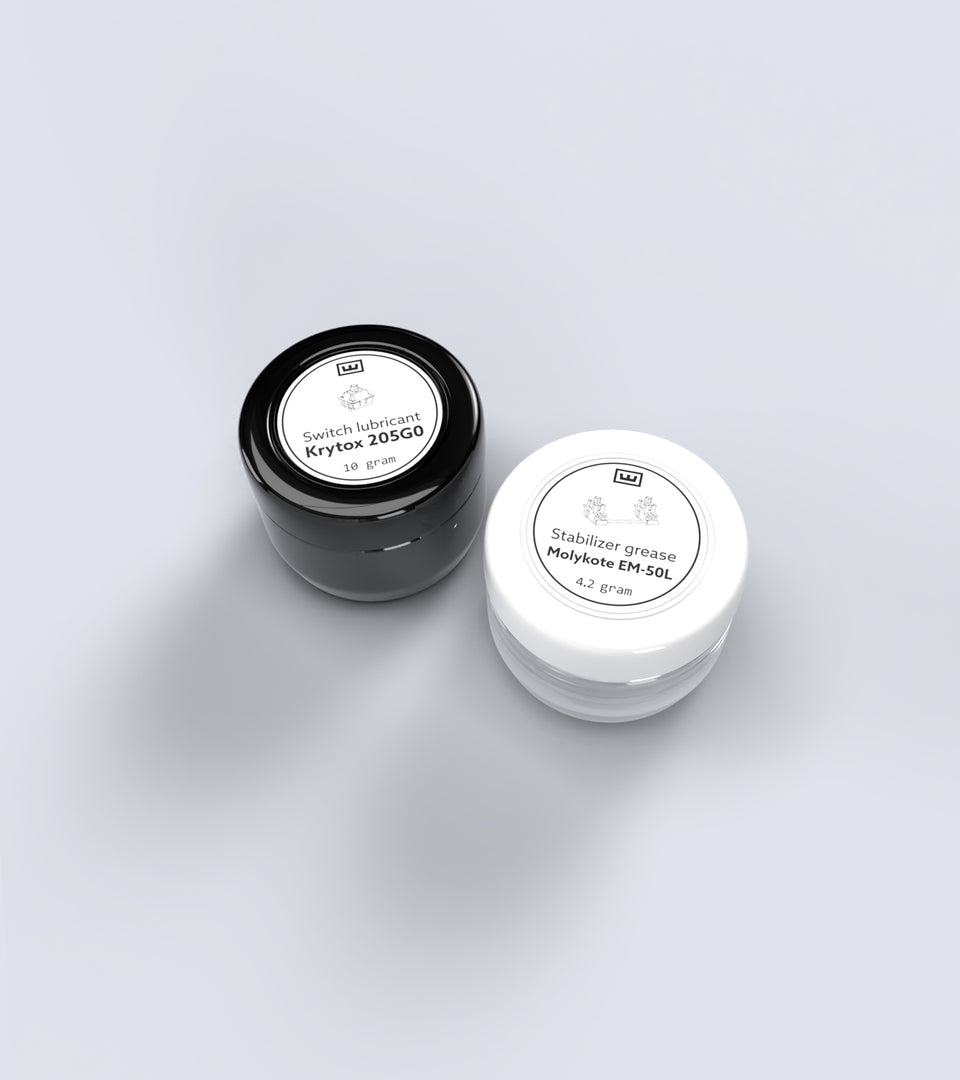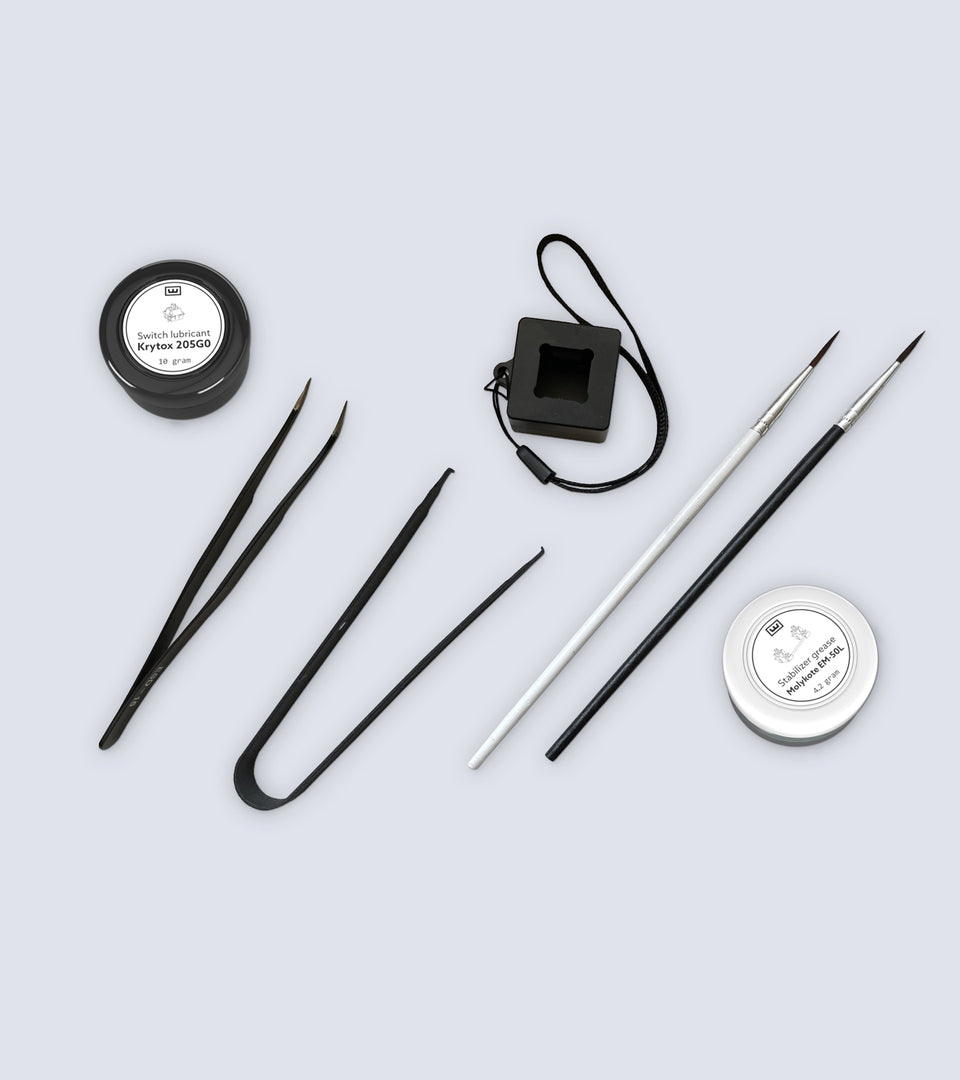 Wooting Switch Lubricant(lube) set Krytox 205G0 & Molykote EM-50L
AC1-LUB-5ML-201
The two-in-one lubricant set for your mechanical switches and stabilizers from Wooting. If you need the tools for lubricating the switches, combine it with the ://blank's switch tool kit for a discount.
Wooting's lubricant set includes:
10g (5ml) Krytox 205G0 switch lubricant 
4.2g (5ml) Molykote EM-50L stabilizer wire

 

lubricant/grease
Krytox is the most popular switch lubricant among the enthusiasts. 1ml can cover at least 90 switches, 5ml is good for at least 450 switches. This lubricant has a balanced viscosity to make your switches feel smooth and will significantly sound dampen or create that thock sound when applied to the housing.
Molykote from duPont is Wooting's recommended stabilizer wire lubricant, this is also used in Wooting's stock keyboards. It is thicker and stickier to ensure it eradicates all stabilizer rattle. This is to only be applied on the wire and wire area, not on switches or stabilizer stems. 
(optional) Combine with the ://blank's switch tool set for a sweet discount
2 year warranty
What do you receive
Optional: ://blank toolkit
FAQ
What do you receive
Krytox 205G0

10 Gram (~5ml)


Enough for 400~500 switches 

Molykote EM-50L

4.2 Gram (~5ml)

Plenty, for plenty of keyboards (no estimate at this time)
Optional: ://blank toolkit
Switch opener

Compatible with:



Lekker switches.
Flaretech switches.
Gateron switches, Cherry switches.
Kailh (box) switches.



Feel free to reach out when in doubt.

Tweezer

To grab all the small parts while lubing.

Switch puller

Allround tool to remove your hotswappable swithces

Two brushes

Both brushes have a different colour. Use one for lubing switches and the other for greasing the stabilizer wires.
Can I do FAQ pls
If you have any question, please feel free to reach out to social@wooting.io
Bought it for my gamer grandson. He loves it!!!
Had everything I needed in it. It should come with an instruction guide though.
W lubing can't wait for the asmr later 😳
Very easy just takes a few hours
So smooth
Despite now owning a beautiful Wooting 2HE, I don't consider myself a crazy keyboard enthusiast. I've always preferred mechanical keyboards, but I'm typically stayed in the sub-$100 price range and don't go for anything custom. I got the lube kit on a bit of a lark. I lubed up the left half of the keyboard while leaving the right half as it came from the factory. It's a subtle, but noticeable different. I'm lazy, so it'll take a while to get around to doing the right half, but that's my problem, not the lubes. 5/5