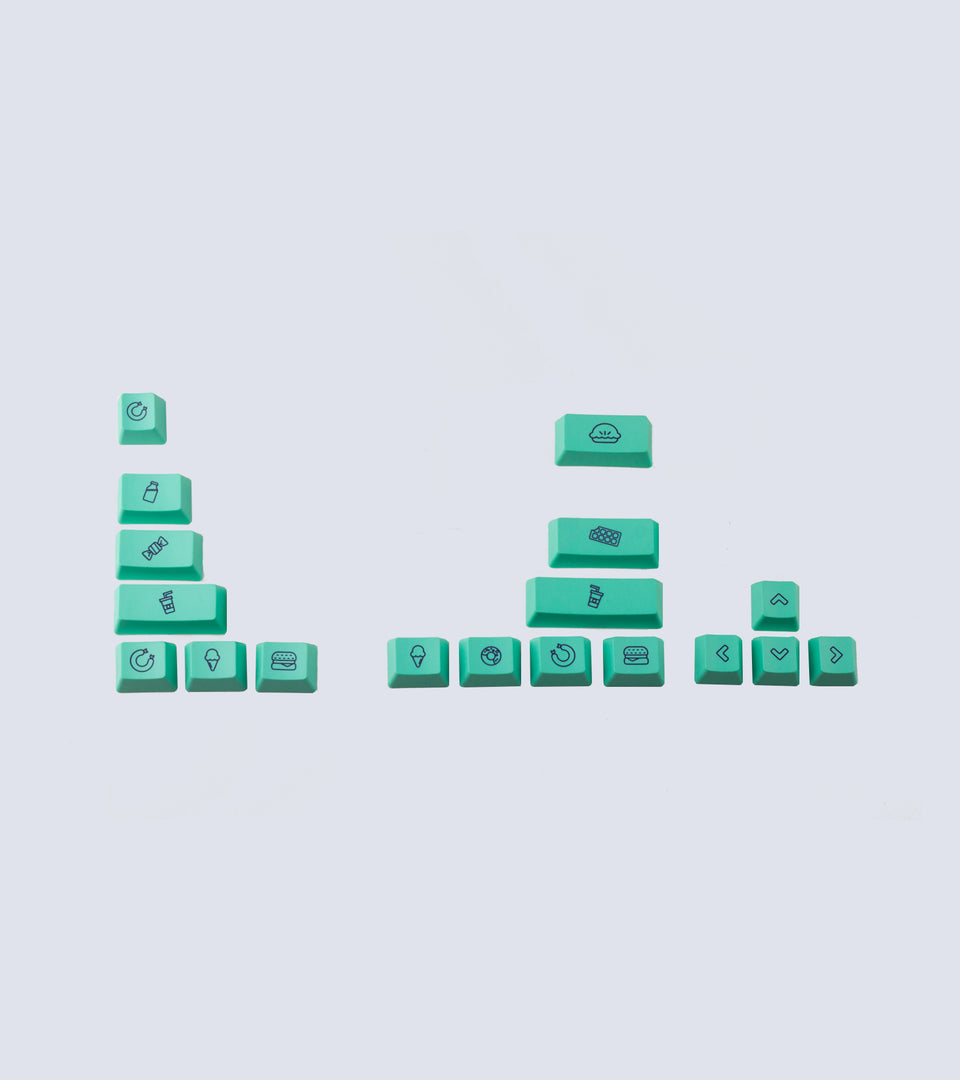 The Snackbag - Dye-sub PBT modifier keys
KC0-EU0-WF-020
When The Snackbar - spacebar is not enough to satisfy your hunger for Lekkertjes. Then the Snackbag is for you.

The Snackbag is a collection of modifier keys with a large treat on each. Don't bite on any of them though, or else you'll break a tooth on the durable PBT material. Instead, give it a nice lick.

One day you're licking a hamburger, another on a nice Dutch rookworst. There are enough treat variations to outlast your tongue or anything in your refrigerator. Variation is the key to a healthy non-consumable diet.

Safely store the treats on your mechanical keyboard that joins every one of your gaming adventures. Milkshake run your way out of tricky situations and rookworst sneak up to your enemies. The treats all fit great with OEM profile keycaps on MX switch stems.

Navigate your way through these Lekker treats using the bonus arrow keys included inside the Snackbag. If you're still hungry, you can add the Snackbar - spacebar to your bag for a small fee.

And in dire times, combine the rookworst with hamburger F4, for peace of mind to cherish this purchase decision. You can only satisfy yourself with the Snackbag.

1. Price includes Free shipping.
2. The Snackbar - spacebar is also available separately.
2 year warranty
Dye-Sub PBT
Limited amount
Tech specs & package content
FAQ
PBT Keycap
Keycaps are often made of ABS or PBT plastics. Each has its advantages/disadvantages and are available with different variants.

PBT excels in providing higher wear, tear and temperature resistance. This prevents a "shine" effect after long use and retains its original texture feel. Unlike ABS, which melts at lower temperatures, starts to shine over time and is easier to discolor over time.

Furthermore, the PBT plastic is mechanically more rigid than ABS, resulting in less flex and different sound signature than ABS.
Dye Sublimated Print
Thanks to the PBT's high temperature resistance, it's capable of dye-sublimation/heat transfer dying. This is a process in which a dye is heated up to the point of vaporization and sub-merging into the plastic pores. Resulting in a seamless feel and vibrant colored print.

This also means that the character print will not fade until the high wear-resistant PBT plastic wears. You can expect these keycaps to last as long as double-shot keycaps.

This is unique to PBT keycaps because ABS plastic will simply melt at the temperatures required for dye-sublimation.
Limited amount
The original design were novelty keycaps for the Lekker Edition keyboard. We made these for fun as part of a mixed keycap set.
As of this moment, it's a 1-time thing. We have no plans to continue to stock the Snackbag and will only produce a limited batch once together with the
Lekker Edition keyboards
.
Due to our manufacturing process, the current limit is 200 sets.
Snackbag specs
| | |
| --- | --- |
| Type | Modifier keys |
| Keycap Profile | OEM profile |
| Color | Pantone 333 w/ Pantone 289 print |
| Material | PBT |
| Print | Dye-sublimation |
| Thickness | 1.5mm |
| Unit sizes | Standard bottom row (1.25 unit) |
| Stem compatibility | MX stems (cross shape) |
| Weight | n/a |
Package contains:
The snackbag - 18x ANSI PBT keys
ESC

LEFT ALT




TAB

RIGHT ALT

BACKSPACE

CAPSLOCK

RIGHT WIN

ARROW UP

LEFT ANSI SHIFT

RIGHT FN

ARROW DOWN

LEFT CTRL

RIGHT CTRL

ARROW RIGHT




RIGHT SHIFT

ARROW LEFT

 

LEFT WIN

ANSI ENTER/RETURN

 
Minimal system requirements:
Do I get Warranty?
Wooting products all have a 2 year warranty and lifetime support. The warranty doesn't go into effect until it's shipped. When you're out of your warranty period, we often offer replacement parts at discounted prices.
Will this fit my [Keyboard]?
The Snackbag fits any standard layout keyboard. These have a 6.25 unit spacebar, 1.25 unit modifier keys (ctrl, win, alt, menu). There are certain big blue, green and yellow branded keyboards that have a non-standard layout.
Learn more
.
What is the optional Snackbar?
The
Snackbar - spacebar
is a 6.25 unit spacebar. You can purchase it separately from the Snackbag or combine it with the Snackbag for a small discount.
What is Dye-sublimation?
Dye-sublimation is a printing process that submerges the dye into the material. In this case, it's submerged into PBT plastic keycaps. PBT has a high melting point, highly resistance to wear and discoloration. This causes the dye to last for a very long time while retaining its original vibrant colors. It won't fade or wear over time.
Do I get the Snackbag with my Lekker Edition keyboard?
If you pre-ordered a Lekker Edition keyboard, you will not get the Snackbag with your keyboard. Instead you get the
Snackbar spacebar
as a gift!
If you have an existing order and want to add the Snackbag, you can simply place a new order for the Snackbag. The price already includes shipping and will ship separate from any other order.
When can I expect to receive the Snackbag?
We will produce all the Snackbag keycaps simultaneously with the Lekker Edition keycaps.
After this production, we will ship all the Snackbags from Taiwan by post. You can expect it to arrive around the same time or slightly earlier than the Lekker Edition keyboards. You're always welcome to ask the status at social@wooting.io or our Discord server.
Does the Snackbag have limited availability?
We will only produce the Snackbag once together with the Lekker Edition keycaps. We do not plan to have them on standard stock.
Due to our production method, we only have a maximum of 200 pieces available.
Do I have to pay for additional shipping?
No, the shipping fee is already included in the price. You will not need to pay for shipping. The standard shipping goes by Letter post from Taiwan. We ship to nearly all countries. Please continue to checkout to see if your country is not one of them.
Can I combine the Snackbag with another order?
You can place a Snackbag order for any quantity, but you can't combine it with previous or future order. You can combine the Snackbag in a new order with other products, but the Snackbag already includes free shipping and will ship separately from your other items.
Really pretty and easy for install!
11/10... Very nice looking, very good legends and such nice art style
Wish it had an iso option, can't use the enter key or left shift keys caiss the set includes ansi key caps
fun and lekker keys
I liked the idea instantly. Would have loved some more dutch specialties like frikandellen, kroketten, oliebollen, cookies or patat/friten. Only thing which I'm really missing is the ISO enter key which leads to a it's only four stars. Would love that wooting would provide some more variety in the future.
It would also be cool if there was some easy and comfortable way to identify the rows or positions where the caps fit.
Love all the Snacks
Got my Snackbag with my Lekker Keyboard and it is really "lecker".
A Bit sad that there was no ISO Option so i have to keep regular Return and left Shift.
Way too thin
These are not good keycaps. They are way too thin - so thin that you get major shinethrough. Shinethrough is NOT a sign of quality. And the thin top gives each keypress a weird, empty sound. It's a shame, really, because they look good. But as for quality, you can get better caps on Aliexpress for 20 bucks.
The Snackbag - Dye-sub PBT modifier keys